Point Reyes Photography Diary
Dubbed a natural sanctuary, a human haven, the Point Reyes National seashore in Northern California is truly nothing short of stunning to see and appreciate.
Although Point Reyes is a very popular tourist destination on the Pacific Coastline, I am actually quite surprised how many people from the Bay Area and inland with whom I've spoken have not been there yet. So I thought I should write a blog post on this marvelous place and share some incredible memories with you, because this is absolutely one of my favorite coastal spots in Northern California.
For those of you who are lucky enough to live near San Francisco, going to Point Reyes can easily be a day adventure. Even if your round trip commute is six hours (like me coming from Sacramento), trust me it is so worth it, especially if you have friends with whom you can stay in the Bay Area. If you follow this blog post, this trip can easily be enjoyed in one day as you drive directly up to most of the locations with really not much hiking involved.
But enough with the small talk, let's go on an adventure!
Point Reyes Lighthouse is a beloved spot to whale watch during whale seasons, but most importantly it is also a nationally celebrated and beautiful place on its own. Anyone else have a soft spot for lighthouses? ;- )
But before you get to the light house, there is this little gem that you will drive past on your way that is a must see--an astonishing cypress tree tunnel. Point Reyes can get very foggy and windy. On this day, it was and gave the whole place a mysterious aura, but nonetheless still beautiful. Later on, I will show you a picture of this tree tunnel taken at the golden hour on a sunny day to show you just how different it can feel.
At the end of the tunnel is a historic RCA building for communications at Point Reyes. I noticed some intricate wild plants that I have never seen before to the right of the building and also found a small path that led me to this gorgeous tree moss swaying with the ocean breeze.
Now hop back in your car and continue the journey to the famous lighthouse. One thing you must know is that while the lighthouse is only relatively a short walk from the parking lot, there are 308 steps (equivalent of about 25 to 30 stories) between you at the top observation deck and the lighthouse at the bottom. If it's crowded have no fear because, though the stairs are narrow, there are spots for taking breaks.
I once was dumb enough to accept the challenge of walking up these steep stairs up without taking a break but guess what, I won the challenge! haha
It was a very foggy and windy day but it was amazing to see the fog rolling over the hills. The wind was so strong that my hair was all tangled up by the end of the trip, hah.
Although there are still many places to explore in this area, by the time we were done with the lighthouse, we were starting to get cold and hungry and decided to get some food after a quick stop at the wrecked ship behind the Inverness store.
Of all the times I've been to this ship, I've never been able to get on it because I did not want to get my shoes wet. But luckily this time, the water level was low enough that I could just walk around and get onto the boat!
This area is famous for having superb fresh oysters. We went to The Boat Oyster Bar owned by the Hog Island Oyster Farm for a snack. It is a super cute outdoor restaurant that is right on the water. By this time, the fog was gone and the sun was shining bright. I was a happy girl enjoying the sunshine, the picturesque view, and yummy food. The oysters are delicious, especially the BBQ Bourbon Chipotle Butter ones! Their official website describes the BBQ flavors perfectly--"mouthwatering slightly sweet, slightly spicy oysters fresh & hot off the grill." mMmmm...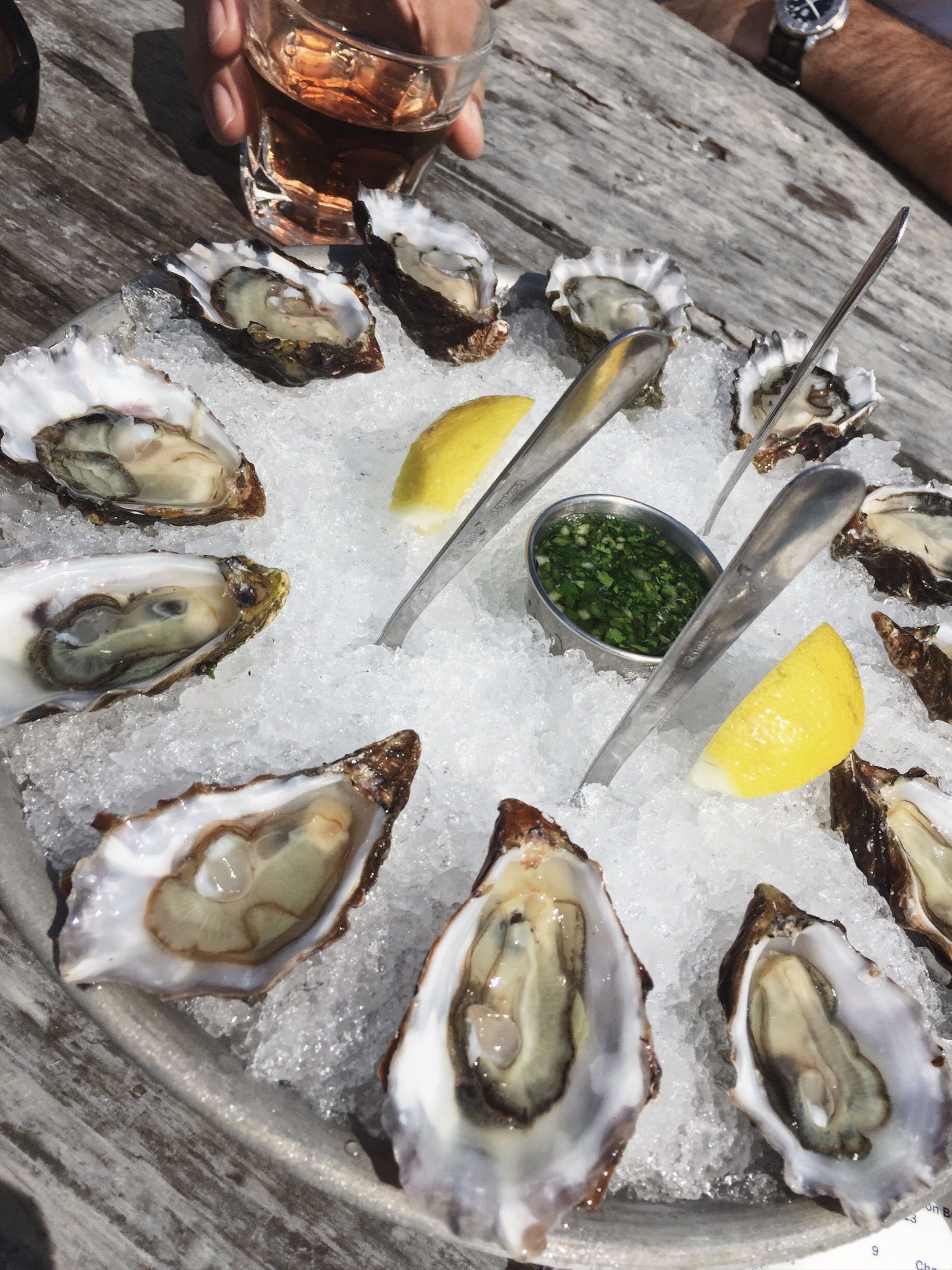 The food, service, and experience was all around wonderful. This place can get so normally it's reservation only, but we were lucky enough they didn't have a wait at the time and squeezed us in. Thanks, friendly Hog Island staff! :)
This outdoor restaurant also offers a "shuck-your-own picnic" where you get your own reserved picnic table and charcoal grill, oyster shucking tools, lemons, hot sauce, hogwash and a complimentary shucking lesson. This would be such a fun activity with friends and family!
Check out their official website for more information (I am not affiliated with them): https://hogislandoysters.com/
After that snack, we drove down to Sol Food in San Rafael for our main dinner. Sol Food is famous for its traditional Latin cooking and its colorful, festive ambience.
Their fried plantains, house made hot sauce, and orange mango iced tea are must tries. Pictured here is their Pollo sandwich which consists of tender roasted (free-range) chicken, ham, sautéed onions, tomato, organic greens, Swiss cheese, and cilantro-lime mayonnaise on fried plantains (instead of bread ;)). Their Bistec (steak) sandwich is very popular as well.
Below I have included some photos from my previous trips to Point Reyes as there are many sides of Point Reyes than just its mystical beauty in the fog: